What We Can Learn From Some Of TikTok's Best Brand Collaborations
Want the latest news on the future of social media marketing?
Join our email list to stay up-to-date on our cutting-edge marketing techniques and news!
TikTok collabs hold some very important lessons for us.
In the ever-changing landscape of social media marketing, it can be hard to keep up with what works and what doesn't. But there's one platform that has consistently proven to be a powerful tool for brands: TikTok. Everyone is on TikTok. If your brand isn't, it definitely needs to be. In this article, we'll take a look at some of the best brand collaborations on TikTok, as well as what we can learn from them.  
Duolingo X Scrubdaddy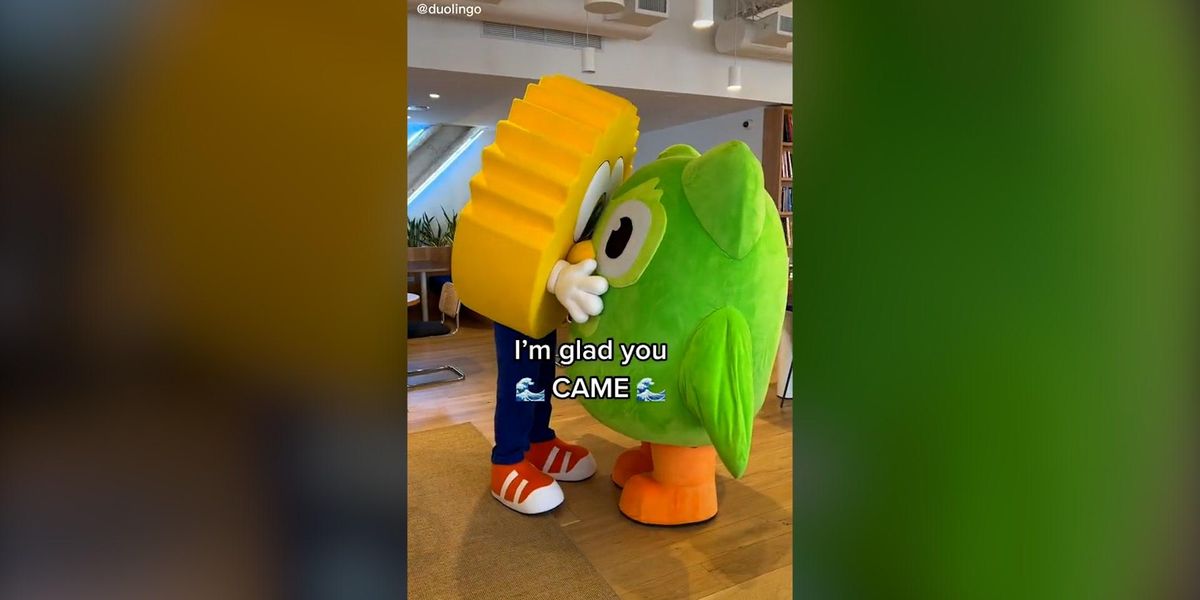 When two brands team up, it can be a great way to reach new audiences and generate some buzz. That's exactly what happened when Duolingo and Scrubdaddy teamed up for a TikTok collaboration. What's Duolingo and Scrubdaddy got to do with each other? Everything, apparently. 
Duolingo is all about language learning, while Scrubdaddy is known for their innovative cleaning products. Duolingo's TikTok usually features their Duo mascot, and Scrubdaddy features their iconic sponge mascot. They decided to pair their mascots together to create an iconic and original video that went viral. 
In the video, the Duo and Scrubdaddy mascots fall in love, and Duo gives birth to tiny Duo sponges that can be used for cleaning. Even though what each company is selling is completely different, they managed to make a collaboration that somehow worked. And most people loved it. 
The video got people talking, which is always the end goal. Love it or hate it, the idea sparked conversation. As a result, the campaign was a huge success, reaching millions of people and resulting in some impressive sales figures for both companies.
This collaboration goes to show that when it comes to branding, thinking outside the box can really pay off. Brands were taught to move forward with an idea even if they think it might flop. Sometimes, the most shocking things go viral, and you'll never know unless you don't try. Having a good creative team by your side is the key to creating something that will be forever talked about.
Charli D'Amelio X Takis
Everyone knows Charli. That's why she was a perfect selection for this collaboration. In August of 2021, Charli D'Amelio, one of TikTok's most followed users, collaborated with Takis, a popular Mexican snack food. The collaboration consisted of a sponsored video in which D'Amelio ate Takis while watching television. 
The video was a huge success, garnering over 28 million views and over 2.6 million likes. Takis saw a significant increase in sales after the video was published, proving that collaborations between TikTok users and brands can be extremely successful.
There are several lessons that brands can learn from this collaboration:
1. Choose influencers who have a genuine interest in your product.
D'Amelio loves snacks. Because of this, it made sense for her to partner with Takis. This resulted in a more authentic and believable sponsorship than if she had been paid to promote a product she didn't care about.
2. Keep your content relevant to your brand.
The Takis TikTok collab was successful because it was relevant to both parties involved. D'Amelio's followers are interested in Charli's daily life, which includes her daily routines, such as eating and watching television. It felt authentic. Creating content that feels natural to the influencer you're working with is essential.
3. Make sure your content is creative and engaging.
The best branded content on TikTok is fun and exciting. Don't be afraid to stray away from professional content. More down-to-earth and relatable content is what will go viral. Be open to new ideas, especially from the influencer/brand you're collaborating with.
Want the latest news on the future of social media marketing?
Join our email list to stay up-to-date on our cutting-edge marketing techniques and news!
Addison Rae X American Eagle X Disney
In November 2020, Addison Rae, Disney, and American Eagle collaborated on a TikTok campaign that resulted in some of the most popular content on the platform. The campaign was simple: Addison Rae wore American Eagle and Disney items while lip-syncing to popular songs.
The results were impressive: the campaign generated millions of views and likes. More importantly, it helped to raise awareness of both brands among TikTok users.
This collaboration taught brands that:
1. Simplicity is key.
The best campaigns are often the simplest ones. By keeping the focus on Addison Rae and her lip-syncing, the brands were able to create content that was both entertaining and informative.
2. Timing is everything.
The campaign launched at a time when TikTok was becoming increasingly popular, which helped to ensure its success. While TikTok isn't in its baby phase anymore, there are still plenty of great timing opportunities. Using a brand new TikTok feature, filter, effect, or trending audio can help skyrocket your collaboration success.
3. Influencer selection is crucial. 
Addison Rae is one of the most popular influencers on TikTok, so her involvement in the campaign ensured that it reached a large number of people. Have a look at your campaign budget, do influencer research, and choose the best influencer from there. It's important to find an influencer that is viewed as an authority figure in your niche.
4. Keep it simple and relevant. 
One of the most important things to remember when collaborating with TikTok creators is to keep your messaging simple and relevant. The best collaborations are ones where the creator understands what the brand is trying to promote and can deliver that message authentically.
5. Be creative!
Stick to fun content. There are a lot of opportunities for creativity on TikTok, so it's important to take advantage of that and come up with concepts that will capture people's attention. Content that is too stiff and professional likely won't go viral. Use trending audios and don't be afraid to step out of your usual content.
6. Have a clear call to action.
When you're working with a TikTok creator, it's important to have a clear call to action for users. What do you want them to do after watching the collaboration? Make sure your call to action is clear and concise so that users know what they need to do next.
By following these key lessons, brands can increase their chances of success when collaborating with TikTok creators. Keep things simple and relevant, be creative, and have a clear call to action, and you'll be on your way to creating successful brand collaborations on TikTok.
collabs
Revolutionizing Customer Engagement ONLY THE GOOD STUFF Get the newsletter. Your Inbox will thank you. Every Saturday, our founder Jon Davids shares his best growth playbooks and business breakdowns. Join 1000's of marketing professionals who read it every week. Welcome to the Modern Marketing Blog, where we explore the newest trends and strategies that are
Read More »
collabs
Your Complete Guide to Influencer Marketing ONLY THE GOOD STUFF Get the newsletter. Your Inbox will thank you. Every Saturday, our founder Jon Davids shares his best growth playbooks and business breakdowns. Join 1000's of marketing professionals who read it every week. If you've been following our site for a while, you're familiar enough with
Read More »